Upcoming
New Wall Segment - Spring 2019
Our next project has been identified - a new segment of stone wall - that we will build in the spring of 2019. More details to follow ...
Contact Us to get added to updates on this project.
---
News
Restoration Site 2 - summer / fall 2018
Our second project looked simple at the start. Approximately ten feet of wall had collapsed and it looked like a straightforward rebuild. However, as we started cleaning up the fallen stones, we discovered that much of the adjacent wall was about to collapse as well. So ten feet turned into almost forty feet, and a pleasant weekend project ended up taking almost five months. Brave souls worked through subzero temperatures, 90 km winds and blowing snow to finish this segment on November 10, 2018. Thanks to Laura for being a gracious host and keeping the team well hydrated. See details of our Projects.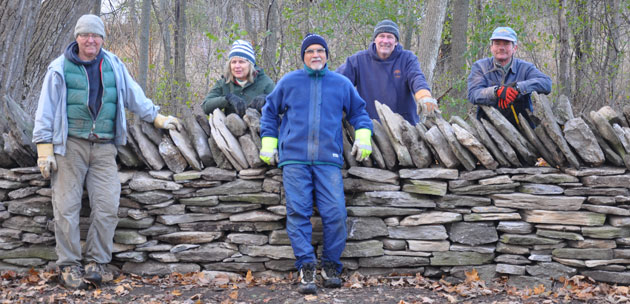 Table-at-the-Farm Dinner
June 16, 2018
A fund raising Table-at-the-Farm dinner was held at Quinta do Conde. Big thanks to all who attended and to the wonderful hosts, Joaquim and Amor Conde.
Dry Stone Wall Project Garage Sale
May 19, 2018
A garage sale was held to raise funds for the Dry Stone Wall Project. Thanks to Keitha and all the organizers, the people who contributed great stuff, and all the happy shoppers.
April 2018 Workshop - Restoration Site 1
Our first stone wall restoration workshop was held on April 28-29 2018, where we worked on the walls at 505 Morrison Point Rd., Accommodating Bay Trailer Park. See details of the April 2018 restoration workshop.
---
About the Project
The Morrison Point Dry Stone Wall Project is a neighbourhood-based, non-profit volunteer initiative based in South Marysburgh Township, Prince Edward County (PEC), Ontario, Canada.
Project Background:
The stone walls of Morrison Point Road are beautiful, extensive, unique and historic, yet many are in disrepair or have been removed. A number of landowners on the road have expressed an interest in volunteering time and resources to the project. In the fall of 2017, representatives of Dry Stone Canada were contacted and they expressed an interest in helping with this project.  One challenge is that the walls abut private property and likely improve the value of these properties. Therefore, there is potential for individual gain through the efforts of the community. As a result, the intent of this document is to provide guidance so that all decisions and actions are transparent, fair and agreed upon by the community at large.
Project Objectives:
Restore, replace and potentially expand the dry stone walls (DSW) of Morrison Point Road and surrounding areas.

Develop a base of skilled volunteers willing to help with the tasks of maintaining and improving the DSWs

Document the history of the DSW of Morrison Point Road and their current state

Document and share the activities of restoration and expansion.

Celebrate the DSWs and the community spirit of Morrison Point through a variety of events.
2019 Project Targets:
Conduct a training workshop for volunteers to provide or improve skills in stone wall construction and maintenance.

Continue restoration of existing sections of wall that are in need of repair.

Promote the heritage value of the existing stone walls and the significance of their restoration to attract more/new volunteers.

Raise funds to contribute to the cost of instructors, workshop participant fees, and supplies and materials.

Hold a celebration event for the road and workshop participants.
Project Team:
Les Stanfield (538 Morrison Point Rd.), Alan Weekes (553) and Greg Forbes (620) have volunteered to help coordinate the efforts of the project for 2019.  Other project team members are being sought and the organizational structure will evolve as we determine the level of interest.
Decision Making Process:
Each category of opportunity will require different actions by the volunteers and land owners. To ensure fairness, a steering committee will be established that will evaluate the following to select priority work projects for any given year.:
the benefits to the community, the road and the land owner,
the availability of resources (money and rock),
and the needs of volunteers
Land owners on the steering committee must recuse themselves from discussions and decisions about potential work carried out by the Project Team on their own property.
Conclusions:
It is hoped that in the early years we will train enough qualified people that future work days can both train new volunteers and expand the rate of work that is done.  As our knowledge and skill grows, it is also hoped that several types of projects could occur simultaneously utilizing any number of approaches.  For example, community resources might be expended on an expansion of walls to public lands; or individual land owners may decide to purchase materials to build a new fence and take advantage of neighbours' and friends' kindness. Others may simply wish to pay to have a fence built.
Anything is possible, but as a non-profit, community-based initiative, we hope to collectively contribute to the improvement of the overall beauty and historical value of our unique area.
Morrison Point Road
Morrison Point Road in Prince Edward County, Ontario has a unique charm and character thanks to its special location and history.
The soil of Morrison Point Road is notoriously shallow. The geology is Paleozoic Middle Ordovician, where the bedrock is exposed with typically less than 1 meter of drift cover. The 1878 Beldon historic atlas states "... geologically, its composition is in a high degree calcareous, the limestone coming to the surface with such prominence as to render the soil in many places incapable of sustaining vegetable growth through the seasons of continual drought."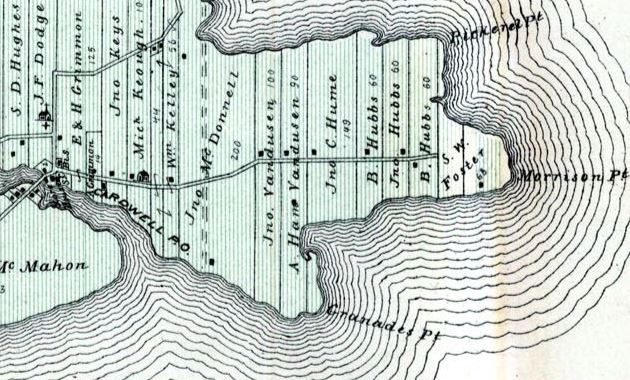 From: Hastings and Prince Edwards Counties 1878, South Marysburgh Township, Wellington Village, Milford, publ. H. Belden and Co., 1878

Dry stone wall construction has been going on for thousands of years, since the Neolithic period, and in the United Kingdom since c3200 BC. The stability of the underlying Morrison Point Road limestone makes the stone wall foundations very stable, and the shallow soil cover provides ready access to a good supply of field stone. While dry stone construction around the world is sometimes based on quarried stone, the Morrison Point Road walls are all built from locally collected stones from the immediate fields along the road. They are double skinned walls, where there are literally two walls gently leaning towards each other, with the gap packed tightly with hearting (stone rubble) to make the outer faces very stable.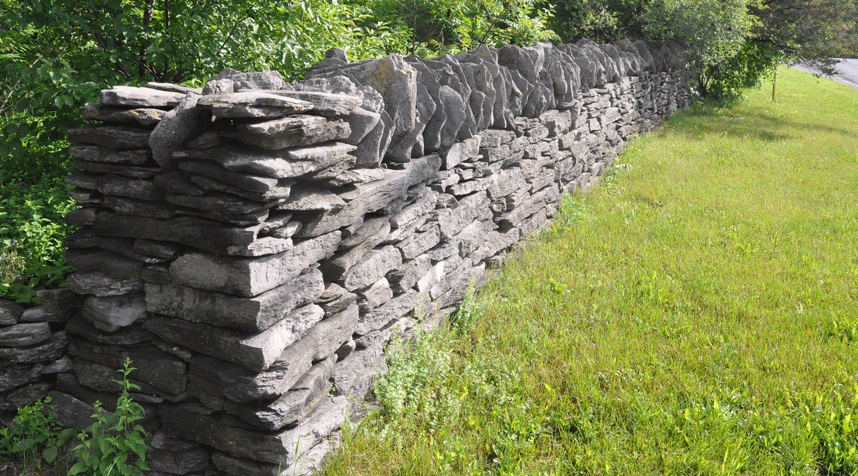 More to come ...