The current project - summer 2018 ...
Work is under way at Site No. 2. Volunteers are welcome most Wednesday evenings and the occasional Saturday morning, weather dependent.
Wednesdays: Sept. 12, Oct. 10
Saturdays: TBD
Contact Us to get added to updates on this project.
Site No. 2 - 505 Morrison Pt. Rd.
Before: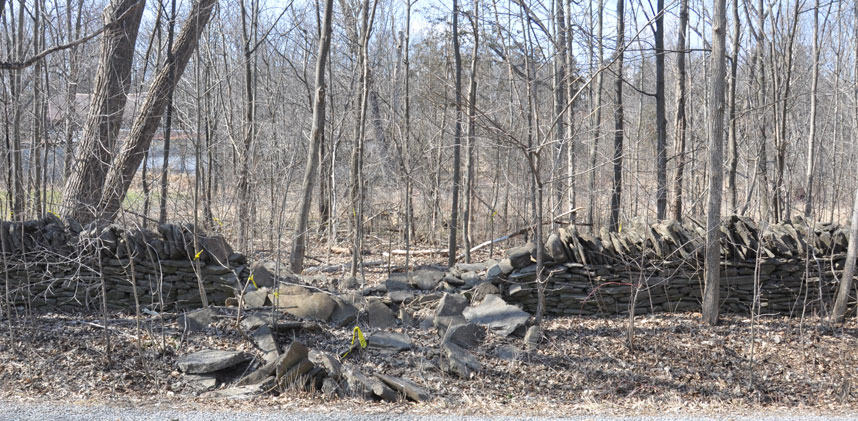 In progress:


---
April 2018 - Stone Wall Restoration Weekend
Our first repair workshop was held on April 28-29 2018, where we worked on the wall at 505 Morrison Point Rd. (Accommodating Bay Trailer Park). This property is the west half of Lot 3 Concession 1, north of Morrison Point Road. The land was originally owned by Henry and William MacDonald, and then by 1834 by the Hubbs family (Robert, Benjamin, Robert Alva) until 1937 when the Smiths opened a trailer park and camp ground.
Before: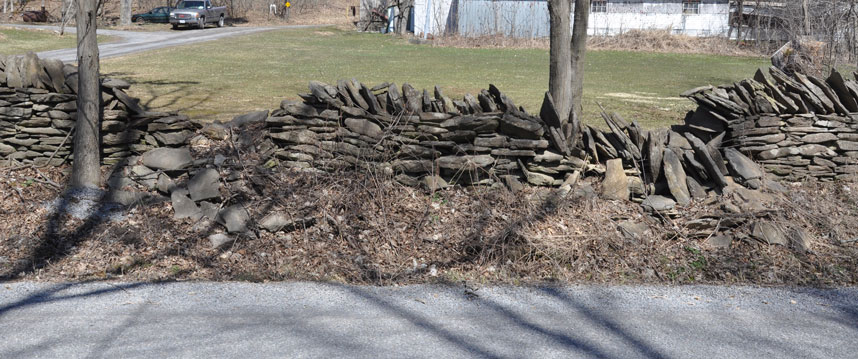 After: April 30, 2018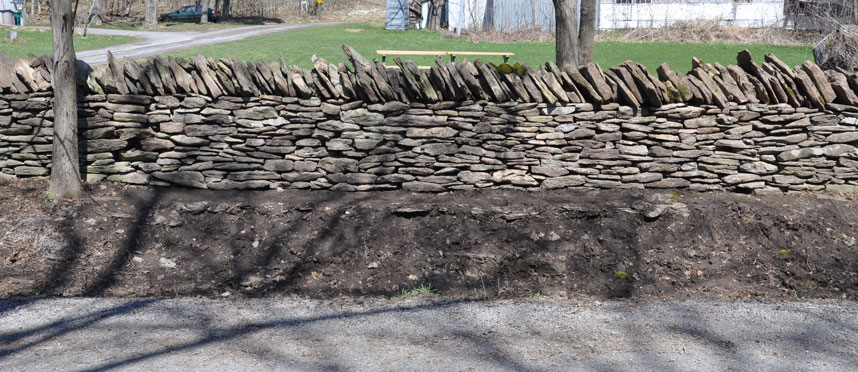 To all of you who helped out, great job. Gratitude to:

John for his expertise, energy, enthusiasm and patience ... ok and sense of humour, (about the hammers)
Alex, for your strength, endurance and passion
Bill and Jackie and all the rest of the Dry Stone Canada group for all their support, enthusiasm and especially the tent, without which I'm sure we would have gotten wet
Torild, Laura, Jill, Mary Ann, Sheila and all the rest who kept us fed, coffeed and watered during the event
Ryan and Danielle of the Lake on the Mountain Brewing Company for their generous and delicious beverages that helped make Saturday night such a great community event, and maybe helped us sleep a little better too. I highly recommend the Cream Ale!

Conrad and Alan for documenting and promoting the event
Jonathan and Corrine and Alf and Xenia for their generous donation towards future events which of course will benefit from the existing grant from the South Marysburgh Recreation Committee, the upcoming dinner event (June 16th) at Quinta do Conde and the May garage sale
And of course all the stoners (Ted, Bob, Greg, Anne, Jonathan B., Jonathan K., Alan, Ian, Charles, Wendy, Les, Howard, Mustafa)
Article from the Belleville Intelligencer, April 30, 2018.